With IEXPBX Softphones, you can operate your pc, notebook, smart mobile phone or tablet as an extension, wherever you are in the world, as long as you have an internet connection. No matter where you are in the car, at home, on the street, outside the city or abroad. You can make calls from your mobile device like a physical phone. You can even make calls by taking an external line from your company's business phone system.

Thanks to our softphone solutions, users will no longer be tied to a single location and your user pool becomes available in a much wider geographical area.
Cost Savings: Instead of buying a IP phone, you can just use a computer and a headset, saving hundreds or even thousands of euros with softphone software.
Efficiency: Employees can stay in touch even they are out of the office. Softphones allow them to respond faster. Better still, IEX Softphone solutions allow you to take advantage of many powerful features wherever you are, unlike a traditional phone that lacks many functionalities.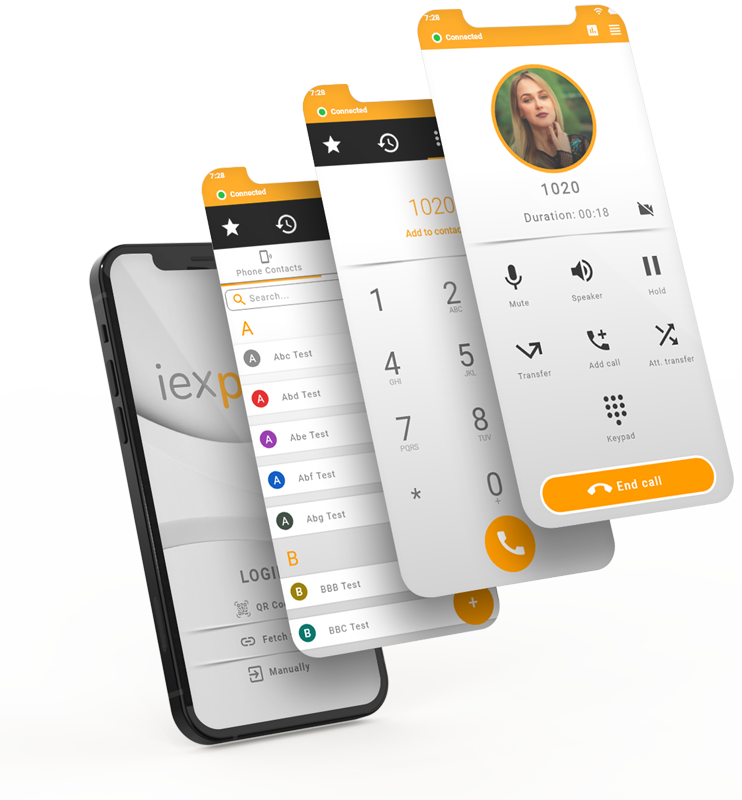 IEXPBX Mobile Softphone is an application developed for users to make phone calls over SIP accounts defined in your IEXPBX System. Allows calls to be made over cellular data or WiFi. You can set up as many SIP accounts as you want in the IEXPBX Mobile Softphone application.
The most important feature of IEXPBX Mobile Softphone that distinguishes it from other softphones is push notification support. This way, you stay connected all the time without affecting the battery life of your mobile device. Even if the application is not working on background, the application wakes up and your phone starts to ring when you get a call.
IEXPBX Mobile Softphone supports advanced SIP phone features such as call transfer, second call on hold, call waiting, direct or attended transfer, conference, video call and more…
IEXPBX
Mobile Softphone Features
€
FREE
for all IEXPBX users
Easy setup with QR Code Support

Automatic setup by email or URL

Battery optimization with Push Support

Works over cellular data or WiFi

Simultaneous calls on the same account

Listening and Sharing Call Audio Recording

SIP Phonebook Integration

Busy status indicator (BLF)

Advanced Customization Options